The first thing to know is that breast size is composed of two values: Size and Cup.
Seven out of ten women are unaware of their own bra size, 30% consultations on pains in the breasts from the use of an improper bra, which includes not using the correct size..
Cup measurement is essential for your health and when a bra feels good to your figure does not damage your bust and this is due to choosing the right size.
GET YOUR SIZE CORRECTLY in 2 easy steps:
1- Size outline
With a metric tape measure the contour of the upper body just below the chest, (Important not to press the tape) to the figure resulting. Throw in 15 cm.
Example: If the number obtained contour plus 15 cm. is 99, you certainly Maybe it will be the size 100, if the result is for example 93 perhaps your right size is the 90 or 95.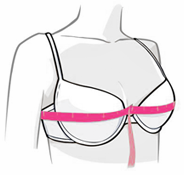 2- Breast-Cup
Wear a bra without underwire fillers and, if possible, the chest should be extended forward (up the straps a little more to get it) measures the outline from the sternum passing over the nipple and surrounding the back, (the metric tape must be supported in the center of the chest, to calculate full capacity of this) without pressing the tape.